Searching:
0

results found
Back
Viewing User Details
To view User details –
In the left pane, click the button to display the user list.
In the user list, click anywhere in a User row. The following window displays, showing the details for the selected User.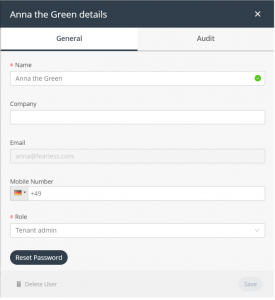 This window contains two tabs – General and Audit.
The General tab (shown above) displays the following general information for the User –
Name – Specifies the name of the User.
Company – Specifies the company to which the User belongs.
Email – Specifies the email address of the User.
Mobile Number – Specifies the mobile phone number of the User.
Role – Specifies the role of the User.
The Audit tab (shown below) displays the following information for the User. Each row represents a different User action.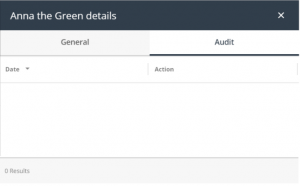 Date – Shows the date and time when the action was performed by the User.
Action – Shows the action performed by the User.