Searching:
0

results found
Back
Updating Firmware on a Device
Axonize enables you to manage the updating of firmware on your devices.
To do so, firmware files must first be uploaded to the Axonize server for a specific Product, as described in Managing Device Firmware. These firmware files are then available to be loaded onto the Devices belonging to that Product. You can only update Device firmware for one Device at a time.
In order to update a Device's firmware version, the Axonize SDK must be installed on that Device.
To update firmware on a Device –
In the left pane, click the button to display the Device list.
In the Device list, double-click anywhere in a Device row to view that Device's details.
Select the Properties tab for the Device.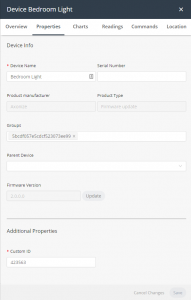 The Firmware Version field displays the current firmware version for the Device.
Click the Update button next to the Firmware Version The following window displays, showing the list of firmware files installed on the Product to which the Device belongs –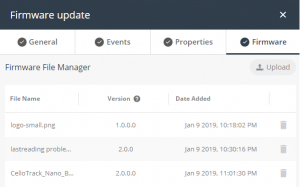 Note ‒ In order for the Firmware tab to display for a Product, you must set the enableSDKFeatures property to True.
Select the radio button of the firmware version file to update on the Device and then click the Update A progress bar displays, showing the progress of the update process.

Click the Close button to close the window. Closing this window does not affect the update process.