The term Fintech is notorious. An array of startups and large finance companies have entered the finance scene and continue to disrupt the industry as we know it. Now, Proptech, a newer term in the startup game, is becoming less niche and receiving significant attention and substantial investment.
Proptech refers to any technology built for the real estate space. In day-to-day conversation, it refers to emerging startups focused on the intersection of real estate and technology. Proptech can span software (property portals) hardware (sensors), materials (smart bricks), or manufacturing (3D printing).
Proptech is disrupting the way we research, buy, rent, and manage property. It's impacting everyone from mom-and-pop property owners and local businesses to massive real estate investment firms.
Investment in Proptech has grown from $186MM USD globally in 2011 to $2.67B USD in 2016. New data shows that VC investments in Proptech reached a whopping $12 billion USD last year.1
By 2022, World Economic Forum experts estimate that more than 1 trillion sensors will be connected to the Internet.2 More sensors mean more data, which can be employed to improve real estate, smart cities, urban areas, and more. And sensors are only one piece of the Proptech puzzle, leaving room for even greater opportunity. Check out our Smart Office guide packed with trends, tips and results we're seeing in the smart office space
Implementation lags behind investment
While Proptech has become more mainstream and is seeing significant investment, implementation is currently less impressive.
The real estate industry recognizes the impact that Proptech can bring for customers, innovation, and collaboration, but 65% of companies ranked themselves as a 5/10 or less in terms of their digital and technological innovation capabilities. 97% of those surveyed believe digital and tech innovation will impact their businesses, and yet an implementation gap remains.3
Mindsets are changing
2019 marks a period where the mindsets of real estate players are shifting. Real estate leaders are beginning to understand that employing the latest technologies is crucial to remain competitive.
In a recent study, 60% of Proptech investors surveyed plan on making more investments in 2019 compared to 2018, an increase from 46% six months ago. Some investors expect the $20B investment mark to be surpassed this year as well.4 This reality is an indicator that investors are betting on the mindsets of real estate stakeholders changing too.
Forward-thinking real estate leaders are investing in smart technologies and important data analytics platforms to help them manage their buildings and spaces with more efficiency, accuracy, and cost savings.
There is also a significant focus on improving the user experience of these spaces to attract renters. Today's workers expect more from their buildings and employers want to attract top talent by placing their teams in people-centered environments.
Leaders are employing IoT technology that provides renters with everything from smart parking and improved guest services to abilities within office spaces to gain important intel, such as people counting, room occupancy, energy usage, and more.
Metrics and use cases of Proptech are driving buy-in
With data-driven opportunities to witness ROI through key metrics, Proptech is becoming a "must-have" rather than a "nice-to-have" component for buildings. It also helps with the buy-in of key stakeholders who can see the true cost-savings that come with making buildings smarter.
With innovations in IoT hardware and the software that activates it, it's clear that more real estate leaders and former skeptics will begin to implement Proptech or work with Proptech companies.
The multitude of Proptech applications for the real estate value chain include analysis and financing, space identification and leasing, site selection and negotiation, diligence, development and construction, process automation, space usage and management, and payments and services.
Surveying European Proptech startups
In analyzing 200 startups in the European Proptech ecosystem, Proptech1 Ventures, an independent venture capital fund in Europe, broke down the percentage of Proptech companies it has considered investing in and which aspects of the real estate chain they're focused on: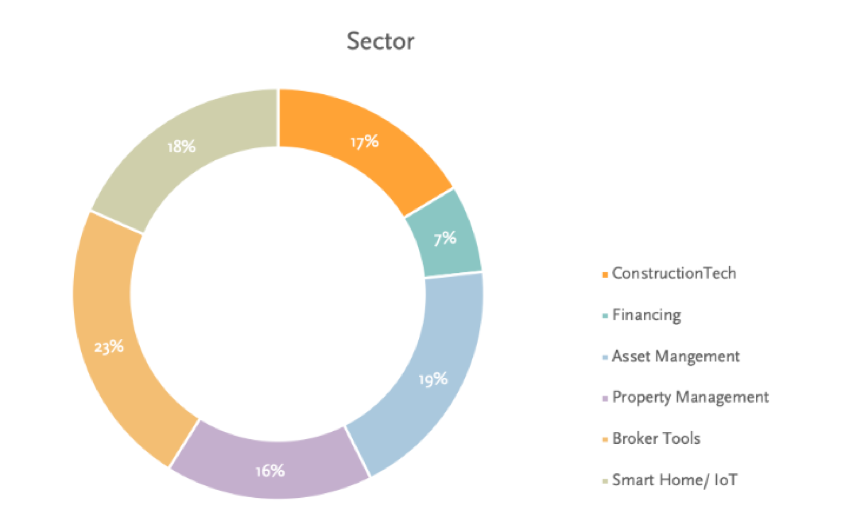 (Image Source: Propmodo: What Our First Year Investing in PropTech Has Told Us About the German & European PropTech Landscape)
Another interesting finding is that 44% of Proptech founders have experience working in the real estate industry.5 It's not a surprise that those who are driving Proptech forward are often those with a firm understanding of real estate issues and how they can be addressed with technological solutions.
Experts at Realcomm have also put together the top 15 Proptech trends they're seeing and some which are on the horizon in the coming year.
For more information on Proptech or for ways to make your buildings smarter, feel free to reach out to us.
Sources:
1 Real Estate News Exchange: Proptech Companies Growing in Number and Value
2 Technological Tipping Points
3 KPMG Report
4 MetaProp Global Proptech Confidence Index
5 Propmodo: What Our First Year Investing in PropTech Has Told Us About the German & European PropTech Landscape