With construction cranes evident throughout the skyline and several FORTUNE 500 companies scurrying to open headquarters in Tennessee, it's no surprise that Realcomm 2019, a conference dedicated to the intersection of real estate and technology, was held in the thriving city of Nashville.
Last week, Axonize and its executives participated in the four-day event and presented in the Microsoft Partner Pavilion after being invited to join 30 of Microsoft's notable partners there.
The conference is attended by both commercial and corporate real estate leaders to uncover the latest technology, automation, and innovations disrupting their industries.
The event has grown to become a comprehensive and forward-thinking meeting focused on the next generation of smart, connected, high-performance, sustainable, and intelligent buildings, making it a clear avenue for Axonize to reach interested executives.
Some of our takeaways from the conference include:
There are numerous components to making buildings smarter – sensors, systems, gateways, platforms, and more. There still seems to be confusion among building operators on how to put all of these pieces together and identify where they can most benefit.
Energy utilization and optimization is the most obvious "smart" application.
It's still not clear what will be the next "killer" application. Occupation of buildings, rooms, and desks seems to be a strong candidate, but it needs to have a clear monetization plan and ROI.
Overall, there's a great vibe in Nashville.
Axonize was on the ground to spread the word about our ability to help facility managers, building owners, and businesses with end-to-end solutions to improve buildings, space utilization, and occupant experiences, as well as help individuals and companies, reduce waste and unnecessary costs through our easy-to-use and implement platform.
We were honored to be representing Microsoft as one of its key partners in this mission to transform the real estate industry as we know it today through smart building and smart office space initiatives to boost occupant productivity and satisfaction, as well as create clear cost savings for building and business owners.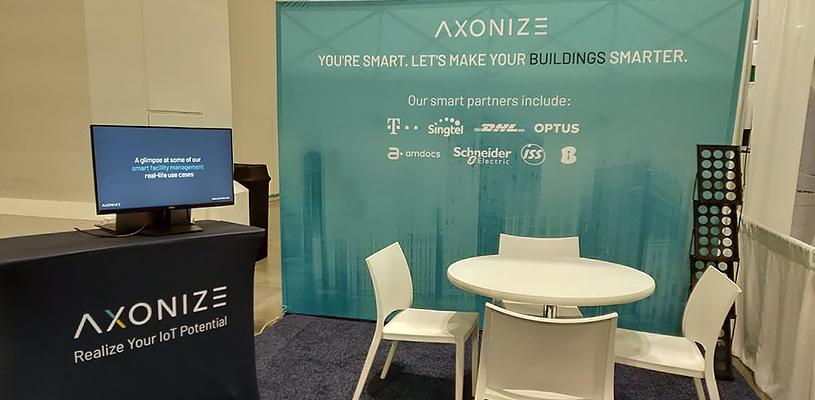 "These partners are transforming their industries by leveraging the power of Microsoft services including Azure IoT, Dynamics 365, and Office 365 to create innovative solutions for smart buildings, facility management, real estate, construction and more," said Bert van Hoof, Partner Group Program Manager, Azure IoT of Microsoft.
Realcomm provided a clear environment in Nashville for important networking and collaboration, while educating industry professionals about the latest business solutions and technologies to improve commercial and corporate real estate design, construction, leasing, operations, transactions, and use.
You can view more information on RealComm here, or read through Microsoft Azure's post on the conference here.