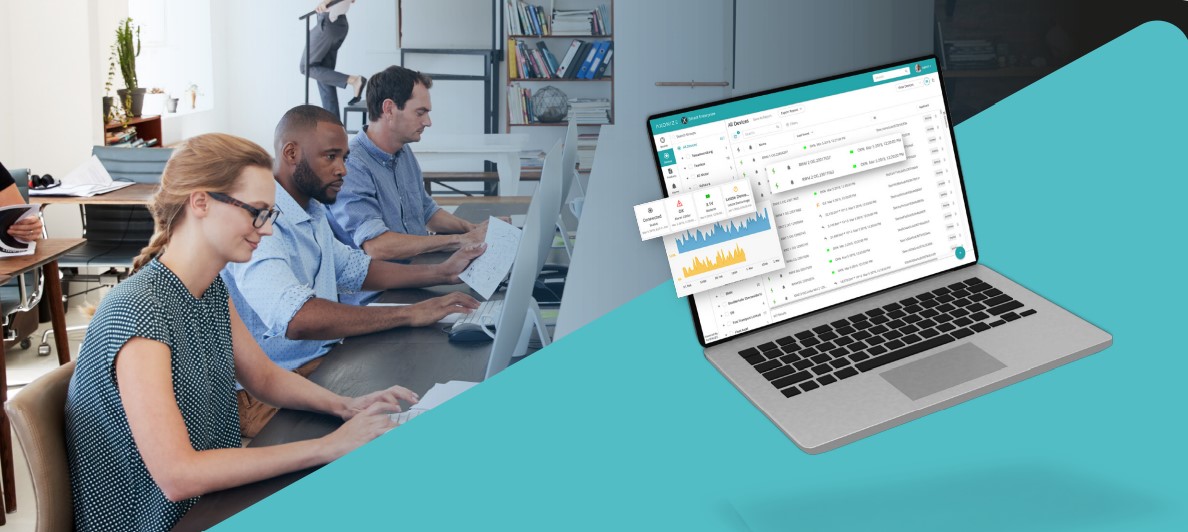 Physical space is a hot commodity. This statement rings especially true in the workplace, where the workforce and the way it operates continue to evolve. Open floor plans, hotdesking, and co-working spaces are increasingly more common, as workers are becoming more collaborative or mobile. As a result, businesses often have unused space, and they end up wasting on rent, and increasing utility costs unnecessarily.
Additionally, research shows that 70% of employees are regularly wasting time in the search of an available workspace or meeting room. A CBRE workplace survey found that 4 out of 10 office workers spend an hour per week just looking for an available desk, even though 40% of available offices are unoccupied on any given day – representing a significant amount of time and space lost.
Clearly companies are looking to become smarter with IoT, but where is the best place to start?
To showcase the potential and benefits of IoT, it's often important to select one business case you can effectively track and report back to stakeholders with clear cost-saving metrics. Demonstrating ROI pre-IoT and post-IoT implementation is often the key to bringing more stakeholders on board and expanding IoT initiatives whose value takes slightly longer to track, such as tenant satisfaction and experience.  According to companies who have already started their journey, occupancy is the use case that provides the clearest ROI, quickly.
Starting with occupancy comes with a plethora of benefits
One of the biggest contributors to illness in the world today is stress, and its symptoms can manifest in in a number of ways such as headaches, depression, inflammation and reduced immune systems. In the work environment, triggers such as malfunctioning office equipment, inadequate lighting, or uncomfortable room temperatures can make employees feel irritable and less productive. Occupancy sensors automatically take care of this problem, enhancing not only the safety of the space, but also its energy efficiency.
Workplace occupancy analysis can identify underutilized areas so that a business can then find more effective ways to use these resources or decide if they are truly needed. Managers can easily detect what spaces and resources have the most usage, indicating that these are effective, and optimizing them.
Use cases in action
From people monitoring to comfort, occupancy use cases can be applied to make buildings and offices smarter in several ways:
Overall occupancy: Many companies notice similar employee behaviors and usage from Monday to Thursday, but on Fridays more workers may be remote or leave the office early. Motion sensors allow these companies to track patterns, count employees, and know if spaces are truly being utilized.
Optimized seating: Managers can set preferences to allow employees to book desks, meeting rooms, a spot in the cafeteria, etc. near fellow employees, on specific floors, or near preferred locations, for an improved workplace experience.
Energy consumption: Companies can reduce energy costs and make buildings greener, by fully controlling HVAC, temperature, lighting, etc. to ensure energy is not wasted. For example, they can monitor and analyze room usage and automatically notify employees to switch to smaller rooms which use less energy, by setting HVAC set point and lights based on occupancy and indoor air quality.
Cleaning & Maintenance: With the help of sensors and rules engine, companies can automatically send cleaning crews to clean restrooms, lobbies and other public areas based on the number of people that have come in, or based on OnDemand calls, as opposed to a fixed schedule. This results in a significant cut in labor costs in restrooms that are low traffic, areas and enhances well-being in areas that are high traffic.
Safety & Security: Companies gain complete visibility over occupancy status and availability. In this way, they can prevent unauthorized usage of critical rooms, assets and other areas. Secure critical areas with smart sensors like smoke detectors, glass breakage detectors, flood, etc. In the case of an emergency, know where the occupants are located so that disasters are minimized.
 Health: Enhance health and overall well-being, with optimized indoor air quality. Automatically open windows when there are too many people in a room at any given time. Prior to the onset of a meeting, operate the fan to sanitize the air.
Bottom Line
Companies globally are making huge strides to make their spaces smarter. These companies are quickly learning that occupancy is the best place to start, due to its quick ROI, simplicity and ease of proving the value of IoT. Not to mention the fact that measuring and optimizing occupancy in the workplace has been proven to drastically enhance the well-being of employees.
Axonize is your end-to-end, one stop shop for occupancy, and smart building. Schedule your demo with our IoT occupancy experts to learn more.