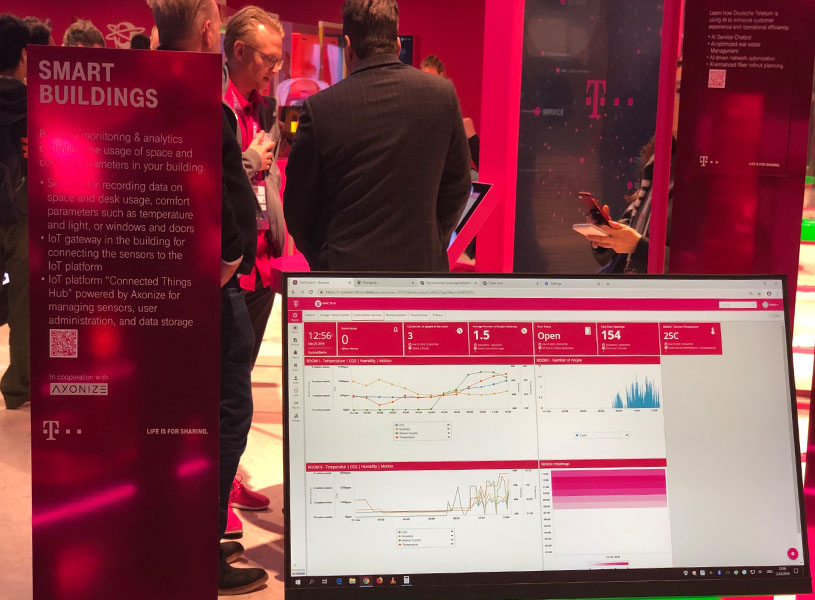 Anyone in the tech and mobile world knows that MWC (Mobile World Congress) is the place to be every year when it comes to the mobile industry.
Each year, companies from around the world flock to MWC to show off their innovative products and get a glimpse at the new trends and opportunities to hit the scene. Prominent leaders and executives join together to share their perspectives at this thought-leadership conference, and the booths just keep getting bigger.
This year in Barcelona was no exception, as Deutsche Telekom (DT), one of the world's leading telecommunication companies and our customer, presented its smart building concept using the Axonize IoT platform. DT's demo was nothing short of impressive, showcasing the DT and Axonize smart building solution and partnership in action.
DT provided a real-time glimpse into all the data they were acquiring from their 'smart booth' from a variety of sensors that were placed throughout the booth.
Sensors such as:
People counting – a sensor that shows how many people are currently in a room
Air quality – a sensor that provides statistics about air quality in a room, temperature and overall comfort KPIs
Foot traffic – a sensor that tracks the foot traffic in a specific area over a period of time
Analytics – stats, graphs and dashboards of all the data collected
With the data from the sensors, they took participants on an active journey, visually guiding them through the process of creating a smart building, how to analyze the information, and what to do with the data collected. The presentation provided real-time statistics on an interactive, touch screen platform.
DT also presented the 'look of analytics' from the data on Azonize's IoT platform dashboard. With Axonize's all-in-one dashboard, visitors were able to see visuals of the overall floor layout with locations of the sensors, graphs for each room, statistics for each sensor and more.
DT also demonstrated how easy it is to create a customized chart from the collected data on the dashboard, as well as how to set alarms and notifications.
Don't just take our word for it, take a look for yourself!