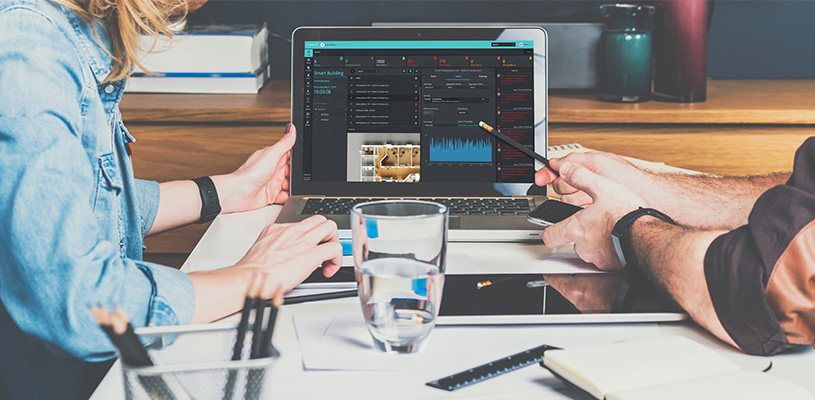 This summer, Axonize hosted a live webinar with one of our partners, T-Systems, to discuss best practices on smart building technology that large and small businesses alike can benefit from. The webinar also provided viewers with a live demo of the Axonize platform, which powers T-Systems' projects and initiatives.
International system integrators and facility managers tuned in as Axonize's Head of Business Development, Peyman Blumstengel, engaged in an open dialogue with Roland Baldin and Wolfgang Werner, senior leaders who are responsible for IoT decisions at T-Systems.
As one of the largest telecommunications companies in the world, many companies turn to T-Systems to assist with making their buildings smarter with key technologies powered by Axonize.
Companies seek out T-Systems for help with productivity, efficiencies, and enhancements to occupant well-being. One of the biggest driving factors, of course, is also the reduced costs that come with making buildings smarter.
Together, T-Systems and Axonize help our customers and clients assess how IoT technologies can be implemented to solve their individual needs and improve tenant experiences.
IoT and smart building technology are not a "one-size-fits-all" solution. The webinar explored the advantages of a ready-to-use, plug & play, product that covers a range of tasks – from installing sensors to connecting devices to using an orchestration platform. The flexibility of this type of platform helps new-to-IoT businesses jump into the smart building space seamlessly since everything from connectivity to technology implementation with legacy and new systems is all handled for them.
We discussed the key factors which go into improving service quality for tenants and subsequent customers and ways to ensure reduced facility costs.
Viewers were able to get more information on potential smart building use cases to apply to their businesses, including occupancy and comfort monitoring – items which are now crucial to stay competitive in today's market.
Additionally, we explored the use of diverse sensor solutions to monitor offices and spaces, including the ability to track measurements of CO2 and temperature, as well as motion detection, people counting, vibration detection, and more.
You can watch the on-demand version of the webinar here, or contact us here for further information.