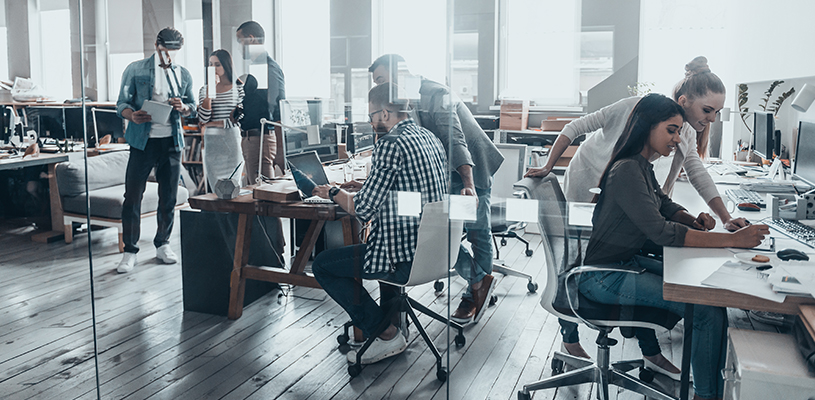 You take the time to ensure you're hiring top employees to benefit your company, but are you doing everything to ensure their success? Smart offices are changing the game when it comes to employees' productivity, expectations, and potential to succeed.
The workforce and the way it works continues to evolve. Physical space is a hot commodity. Open floor plans, hotdesking, and co-working spaces are increasingly more common, as workers are becoming more collaborative or mobile. As a result, companies and businesses often have unused space, and they end up wasting on rent and increasing utility and maintenance costs unnecessarily.
The idea of the smart office is driven by the ability to optimize office space to reduce costs, while also digitizing offices to improve employee and visitor experiences.
There is also a growing effort for companies to be more green and conscious of environmental implications. Nearly 40% of millennials have chosen a job because of company sustainability and most millennials would take a pay cut to work at an environmentally friendly company, according to a report covered by Fast Company. If you're unsure of the gravity of these findings, consider that millennials will make up three-fourths of the workforce in six years.
Forward-thinking companies are implementing technology to stay attractive and relevant to today's workers, but almost more importantly to collect data they can then transform it into actional insights for effective workplaces.
More companies want to be implementing these technologies, but often don't know where to start or how they can benefit.
Why should you care about making your office smarter?
How often do lights or A/C stay on in the office or rooms when no one is using them? Are the doors and windows shut at the end of the day? These are questions you should be able to answer at any given time. Recording, analyzing and evaluating your spaces gives you control to monitor the quality of spaces for employees, as well as gain insights for added security and reduced costs. Check out our new whitepaper here to explore smart offices and buildings in the era of digital transformation.
How does it work?
The overall idea is that everything can be managed from one platform, but the individual cases where this technology can be used include:
Overall occupancy: Many companies notice similar employee behaviors and usage from Monday-Thursday, but on Fridays more workers may be remote or leave the office early. Motion sensors allow these companies to track patterns, count employees, and know if spaces are truly being utilized to save on unnecessary energy.

Occupancy detection can work on two levels:

Motion detection: Recognizing human presence in an office or room
People counting: Identifying how many people are in an office or room

Meeting room reservations vs. usage: Movement sensors can help companies compare real meeting room usage with reservations stored in the room booking system. Incorrect usage of reservations may result in empty meeting rooms while workers are trying to reserve ones without success, a loss in productivity which doesn't need to occur.

Example: A rule can be set so that a reservation is cancelled 10 minutes after a meeting start time should no one enter the room so others can book it)

Shared desks: Sensors allow companies to analyze desk occupation and release reserved desks which are not actually being used in shared office spaces

Example: If most desks are regularly unused after 5pm, you then have the insights and ability to rent out these unused desks for added revenue

Room comfort: Improve the experience and environment for your employees or clients you may be entertaining by setting comfort parameters, including temperature, humidity, CO2, light, and noise

Example: Set 'rules' including a temperature threshold based on how many people are occupying a room to keep everyone comfortable

Doors and windows: Monitor and analyze door and window openings and closings to ensure your workplace is always secure
Room energy usage: Monitor and analyze room usage and notify employees to switch to smaller rooms which use less energy when they rent out larger ones but do not need the extra space
Optimized seating: Set preferences to allow employees to book desks or meeting rooms near fellow employees, on specific floors, or near preferred locations, such as near the window, for an improved workplace experience
Optimization of shared office spaces: Analyze how and when spaces are being used to be able rent out unused spaces and set pricing based on common patterns or preferred locations, and make money off of unused spaces whenever possible
Visitor management: Make a good first impression and implement sensors to promote security, as well as detect when visitors arrive to notify their hosts
Smart parking: Optimize parking space usage with sensors to deliver better experiences to employees and visitors for a seamless parking experience, including pre-bookings or meet-and-greets when motion is detected.
Types of sensors & equipment companies are using to fuel these efforts include:
Presence Sensors: Detects motion, monitoring temperature, and is easily mounted
Comfort Sensors: Monitors air quality, temperature, humidity, noise, CO2, and powered by a USB outlet
Motion Sensors: Monitors occupancy, temperature, humidity, light, sound, and is easily mounted
Improved Wi-Fi: Allows for a cost-effective way to extend your wireless coverage
Footfall Cameras: People counting sensor that supports people entering and exiting the office or relevant spaces within it
Our advice: Start small and scale
Connecting an entire office or building shouldn't be daunting. We advise companies to start small. For example, equip, monitor, optimize the occupancy of your meeting rooms. You'll start seeing the benefits (think happier employees who can easily reserve rooms and happier stakeholders with energy cost savings) and then scale from there.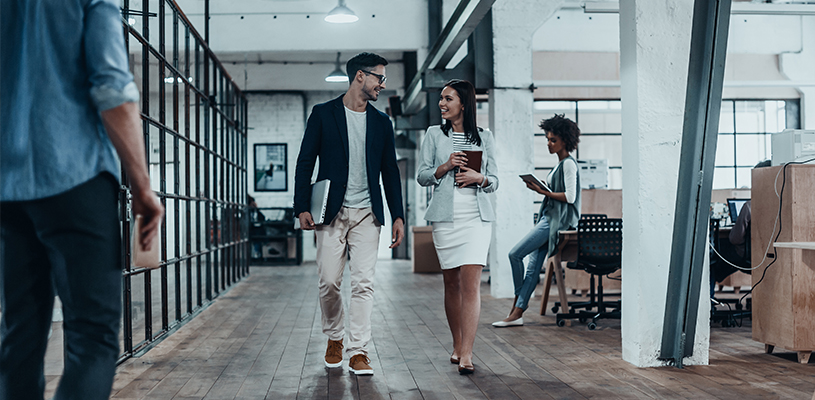 Axonize provides companies with an end-to-end solution to make their offices smarter. If you're interested in learning more, feel free to contact us.
You can also read our smart buildings and offices whitepaper to learn more.