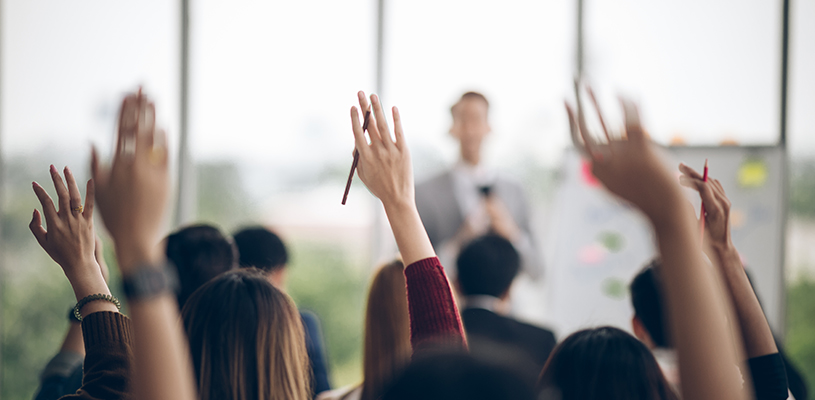 It's no surprise that 85% of business professionals say they build stronger, more meaningful business relationships during in-person business meetings and conferences.
While new technologies continue to evolve the way we interact and manage our business relationships, 95% of individuals surveyed say face-to-face meetings are essential for long term business connections.1
In addition to networking with industry peers, conferences present a sure way to gain a plethora of knowledge and hear from multiple leading industry disruptors in one sitting. As more and more smart building offerings and products continue to emerge, we're especially excited for the thought leadership opportunities that 2019-2020 present for the industry.
Here are some upcoming smart building events to keep on your calendar:
Smart Cities & Buildings Asia
September 4-6 | Singapore
One of the region's leading exhibitions showcasing the latest SMART solutions and innovative technologies for the built environment.
Intelligent Building Systems
October 2-3 | Paris
A conference focused on building smart for a smart future.
Smart Buildings Show
October 9-10 | Olympia, London
This event will cover key aspects of creating and managing a smart building, including building automation systems, energy efficiency, software, services and support, workplace and wellbeing, HVAC, security, regulations, and more.
CREtech New York
October 16-17 | New York
Assembling the most sought-after speakers, the leading startups, investors from around the world, motivated developers/owners and brokers to discuss all things real estate tech innovation.
Future of Utilities Smart Energy 2019
October 16-17 | London
300+ key industry players coming together for two days of collaboration set to transform the energy ecosystem. The event has a strong focus on energy retail for smart buildings.
Smart City & Buildings 2019
October 29-30 | Helsinki, Finland
With 400 delegates and 25+ speakers, this event focuses on urban environments, inclusive and sharing cities, digital transformation, smart cities, government transparency, and smart building.
MIPIM PropTech NYC
November 12-13 | New York, USA
MIPIM PropTech unites key real estate decision makers from all sectors and technology companies to take their business to the next level and build the future of real estate.
Smart Building Expo
November 13-15 | Milan, Italy
Representing the industry of digital technology for smart buildings and cities, promoting the modernisation of buildings through the adoption of intelligent devices. The exhibition endorses the principle of integration between the components of the smart building industry and the worlds of electrics and electronics.
Verdantix: Smart Building Technologies Summit Europe 2019
November 27 | London
This event convenes professionals from real estate and facilities management to share insights on how to improve outcomes with innovative technologies such as software, mobile apps, smart lighting, remote management, solutions for agile workplaces, virtual reality, and data analytics.
Smart Buildings Summit 2019
November 26-28 | Sydney, Australia
An event that brings together the commercial real estate community to explore the technologies and strategies that will enable sustainable and productive building.
CES: The Global Stage for Innovation
January 7-10 | Las Vegas, USA
While not focused solely on smart buildings, the industry is sure to be a big focus at this year's annual consumer electronics and innovation trade show. With 1K speakers, 175K attendees, and 4.5K exhibitors, CES is a can't-miss event for any company invested in tech and innovation.
International Conference on Advances in Smart Buildings and Construction Materials
January 20-21 | London
This event provides a premier interdisciplinary platform for researchers, practitioners, and educators to present and discuss the most recent innovations, trends, and concerns.
Inman Connect
January 27-31 | New York, USA
Exploring how the real estate industry is going through a period of unprecedented, historic change. Legacy brands are colliding with new tech-driven ways of serving the customer, and confusion and capital is everywhere. Wall Street is in love with real estate tech as a fertile space of investment and growth.
Integrated Systems Europe's Smart Building Conference
February 10 | Amsterdam
The 2020 theme will be 5G, IoT, and Intelligent Edge, exploring how the unfolding new technology landscape facilitates the deployment of smart technology within buildings.
Mobile World Congress
February 24-27 | Barcelona, Spain
With smart building technologies resulting in mobile applications, MWC is sure to be an event to catch this year. It's the biggest and most important trade fair centered on mobile technologies in the world, annually gathering over 100,000 professional visitors.
Light+Building
March 8-13 | Frankfurt, Germany 
The latest smart products for the fields of lighting, electrical engineering as well as home and building automation. It is the industry hotspot for architects, planners, electrical installers, retailers, and the real estate sector from all over the world.
IoT Tech Expo Global 2020
March 17-18 | London
The leading global IoT conference, bringing together 12,000 attendees, 5 co-located events, 21 conference tracks, 500 speakers and 300+ exhibitors.
NFMT 2020: Facilities Conference and Expo
March 17-19 | Baltimore, USA
Join fellow facilities executives at the 20th annual NFMT Conference and Expo to explore the latest opportunities and advancements in the industry.
IFMA's Facility Fusion
April 14-16 | San Francisco, USA
The leading conference for facility managers worldwide, exploring the latest innovations, trends, methods, and key networking opportunities.
Future PropTech
May TBD | London
With 2K attendees and 100+ speakers, this event explores the rapid transformation of commercial real estate and PropTech trends internationally.
SMARTGREENS 2020
May 2-4 | Prague
The purpose of the 9th International Conference on Smart Cities and Green ICT Systems (SMARTGREENS) is to bring together researchers, designers, developers, and practitioners interested in the advances and applications in the field of Smart Cities, Green Information and Communication Technologies, Sustainability, Energy Aware Systems, and Technologies.
Continental Automated Buildings Association: Smart Buildings Summit
May 3-5 | Florida, USA
The Summit will ensure that active buyers are presented with opportunities to learn about the latest available intelligent building technologies. Attendees will represent a wide cross-section of intelligent building end-users, including facility managers, builders, developers, architects, engineers, and integrators.
Internet of Things Applications: Enabling Industry 4.0
May 13-14 | Berlin, Germany
Addressing real opportunities, including smart buildings, for the Internet of Things, not hype. Business models, case studies, opportunities, and profitability are all covered. We focus on assessing end-user requirements and bring the latest diverse technologies and applications to life.
ICSC: RECon
May 17-19 | Las Vegas, USA
Featuring three days of industry experts and visionary keynotes, this event is a massive gathering of real estate leaders and professionals with a focus on disruptive technology and networking.
Facilities Show: Smart Buildings Expo
May 19-21 | London
This event is dedicated to workplace technology, smart building technology, and field service technology. You'll meet FM suppliers showcasing their latest technology innovations.
Please feel free to learn more about Axonize's smart building and smart office solution here.
Source:
1Team Referral Network Survey