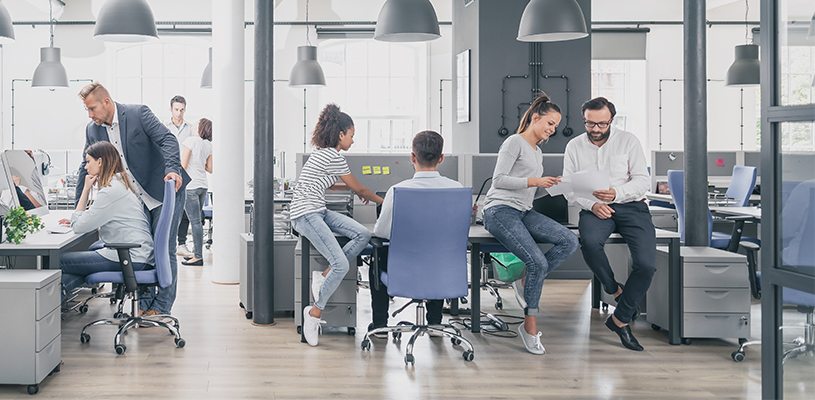 The likes of Google and Amazon began making waves in the ways businesses considered the design and structure of their workspaces long ago. In an effort to breed a certain company culture, these companies and others began placing relaxation pods, state-of-the-art gyms, Wi-Fi-powered roof decks, and unique meeting rooms within their offices.
The strategy was not simply to provide perks to entice new hires, but to find ways to further promote interoffice collaboration, productivity, and positivity to drive employee success. These initial implementation strategies have led to the evolution of what we know as the tech-savvy and sophisticated smart offices of today.
As employers invest more in equipping their office spaces, tech and retail companies are taking note, continuing to commit more to the growth of this field. The smart office market is now anticipated to reach approximately USD $49.7B USD globally by 2024.1
As corporate leaders and facility managers consider ways to make their spaces smarter, it's important to consider that the 'Google model' should not be replicated by most businesses. To design a workspace that is smart and supports company and ROI goals, each business leaders must consider his or her company's unique needs. This means delving into data on how a company's employees work and making key decisions based on concrete data.
For example, what physical and digital tools do your employees require for success? Which rooms can be repurposed based on low utilization? Which employees require isolation (cybersecurity and legal), and which would benefit from hotdesking and open floor plans for collaboration?
Workplace designs and needs also vary based on cities, countries, and cultures. What may work effectively in a corporate American culture likely shouldn't be replicated in a global company's offices in Asia.
Commercial real estate is undeniably costly. Business leaders must make informed decisions that won't cost them more to fix or undo later. Stakeholders should ensure they aren't implementing copycat models that sound enticing to attract top talent but are instead based on data and insights.
Office decisions should be qualifiable and can be solidified when tracking and analyzing key data points to make proper conclusions. It's important to therefore select an analytics and software provider who can provide a customizable solution to meet a business's unique needs.
From space utilization to people counting, there are many tools, including sensors, which businesses are using to aid them in making larger decisions that their employees can benefit from. Implementation of key data tools will help owners save on costs and resources as well, providing them with more transparency on the utilization of their spaces.
In an interview with Mashable, Keating Crown, a principal at Sterling Bay, a Chicago-based developer who has worked on proposals for Amazon and other large companies, states that the main goal of the smart office is to promote efficiencies.
From meeting spaces and reflecting rooms to high-tech powered gathering places, they are all designed for the purpose of "keeping their employees at the office," he said.
"Anything that makes your day more efficient," Crown said. "That's what's expected by the new workforce."  2
And simply put from a bottom-line perspective, these efficiencies aren't just for the benefit of one's employees. Tracking your office spaces and usage translates to significant and proven cost savings for business and building owners. Skipping out on smart office capabilities or downplaying the benefits as a nice-to-have trend will only prevent you from recognizing a beneficial reduction in costs and resources.
Sources:
1 Zion Market Research Report "Smart Office Market By Product"
2 Mashable