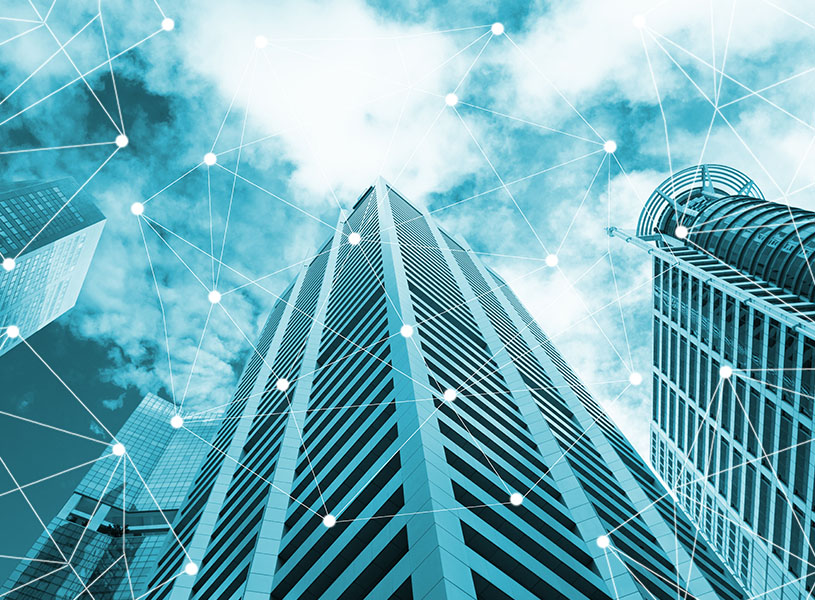 What's holding you back from turning your facility into a smart building? There are many components in transforming into a smart building, so it can be daunting to know where to begin. Here's a breakdown of everything you need to know from sensors to benefits to IoT platforms to start turning your pain into gain.
Why Smart Buildings?
How often do lights stay on in a room when no one is using them? Are the doors and windows shut at the end of the day? These are questions you should be able to answer at any given time, with stats to back it up.
With smart building capabilities, you will be able to monitor and analyze each building from one centralized location with all customer requirements being handled on one platform. Capture data, improve service quality, reduce overhead costs and increase ROI within months. Recording, analyzing and evaluating elements of your building will give you the control you need to monitor the quality of your building's parameters at all times.
Benefits of a Smart Building
Transforming a building into a smart building has many benefits for all parties involved – the owner, facility manager or management team, organizations working together within, employees and customers/clients.
Benefits range from increasing productivity and cost savings to reducing energy costs. Implementing a smart building strategy, including choosing sensors, connection via an IoT platform and analyzing data will get your smart building up and connected in no time.
Other important benefits include:
Enhance Efficiency: Manage all your buildings with greater efficiency by aligning areas optimally to their actual need. You'll see the potential for new profit by implementing a complete smart building package.
Increase Service Quality: Monitor effectively by aligning services and avoiding unnecessary use of resources.
Lower Costs: Save money by avoiding unnecessary costs such as heating, open windows and lights in unused spaces and reduce energy costs.
Increase ROI: Increasing ROI is a direct correlation between lowering costs and saving money.
Optimize Facility Productivity: Enable building staff to act quicker and more responsibly with their increased knowledge of activity in the building.
Predictive Maintenance: Enable intervention by setting parameters and limits to enable automatic alarms and notifications.
Highest Degree of Security: Remain safe and secure with cloud-based software, such as on Microsoft Azure.
Optimize Comfort Parameters: Improve parameters such as air quality, humidity and temperature within the entire building.
Real-time Data Assessment: Receive notifications and alerts in real time.
Sensor Solution for Smart Buildings
The key in creating a smart building lies in the connectivity and measurement of sensors. There are no 'set rules' when it comes to the particular sensors used in connecting a smart building, but what all smart buildings have in common is integration. Gain immediate value by integrating your existing systems with your smart building sensors.
Equip each smart building with a diversity of sensors and devices, including new facilities with a variety of systems and sensors. The most popular sensors include:
Motion: Measure movement-based activities, such as moving objects or people, as well as light activity
Sound: Measure noise activities throughout the building
Temperature: Measure changes in temperature in a variety of atmospheres, including heating and cooling
Occupancy: Measure room occupancy anywhere inside the building
Door & window: Measure the openings and closings throughout the building
CO2: Measure the air quality throughout the building
Safe and Secure
Once sensors are connected, the security of collecting and managing data is imperative. In today's world of cyber-hacking, combining a security mindset with innovative technology should be a top priority.
Keeping your data safe and secure using a cloud-based software such as Microsoft Azure allows for an additional layer of security that every smart building must have. A secure IoT platform enables you to connect, monitor and scale your smart building safely and effectively.
Stay Fully Informed at All Times
Create an added value for your building by reacting promptly and in a goal-oriented manner when you experience problems or fail to use space to its full potential. A multi-customer IoT platform dashboard allows you to set customized rules and alerts, with the ability to send alarms and notifications to anyone at any time. Receive real-time notifications about issues to eliminate potential risks and problems, quickly and effectively. Here's how it works:
Place and activate sensors
Configure sensors on a secure IoT platform
Collect and measure data
Analyze data, set alarms and notifications
Eliminate potential risks and problems
Download our smart building white paper to see real-life case studies and results of smart building projects, recommended sensors and more.
Selecting an IoT Platform for your Smart Building
Your IoT platform will be the glue that holds the entire connectivity together. To run a successful smart building and reap the rewards, you need an IoT platform that will meet ALL your building's needs.
Axonize is a uniquely-designed IoT platform that connects any sensor or device and manages a wide array of software to transform any building into a smart building. Based on Microsoft Azure's system, your data will remain safe and secure. Implementation occurs in just a matter of days.
Learn more about Axonize's IoT platform to transform your facility into a smart building today.