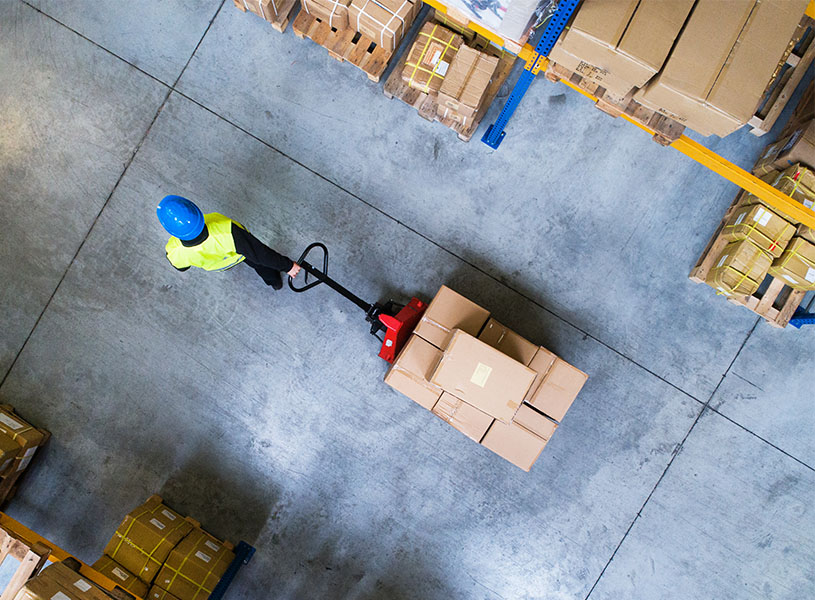 Minimizing costs, increasing transparency, and ensuring smooth transportation. These are the shipping industry's goals when implementing an IoT solution.
Playing with the Big Boys
Due to the extreme complexity of managing various projects within the shipping industry, it becomes difficult to prioritize and establish top-notch, seamless digital processes and technologies.
Short-term fixes are often implemented with isolated projects and technologies, resulting in an even greater mess for both operations and data analysts.
Today's reality is that companies are still operating on an analog system (paper trailed) or continuing to run as a digital island – optimizing their internal processes, but not connecting to 3rd parties. 
One thing is clear: your competitors will be heavily influenced by a level of "digitalization". If you are not IoT ready, you will be out the game.
Who Can Benefit from Shipping IoT Solutions?
The pressure to digitally optimize processes, using IoT solutions, is coming from everywhere – politics, press, shareholders, customers, suppliers, internally etc. If you don't digitize your shipping operation in today's fast-paced world, your business will be lost.
Check out this in-transit IoT whitepaper to discover how companies are empowering infrastructure & logistics to increase customer satisfaction
Looking at the shipping industry, IoT projects exist, but are individually driven by each party. Shipping lines equip some containers with tracking devices, but unfortunately, whenever you need one, there is no availability.
Freight train operators monitor the location and condition of their equipment, but only from terminal to terminal. Transport agents offer tracking and conditions monitoring solutions to their customers, but at a high cost and with limited success. Seaports are offering in-transit platforms, but not all partners in the port are connected.
Taking into consideration the challenges and perspectives of all those involved with shipping from point A to B, who would greatly benefit from IoT solutions?
Simply stated, EVERYONE:
The industrial company, who wants to ensure smooth transportation without delays, lowest costs, minimized administration in transport booking/management, full transparency and proactive information about any disturbances (condition and time).
The transport agent, who wants to exert minimal effort, full flexibility in choosing the transport way, minimize the cost and offering the best possible information to his customer.
The shipping line, which aims to maximize the utilization of its capacities, while minimizing operation costs, such as time at the terminal, empty container handling, maintenance/bunkering in the port. They also want to maintain their preferred provider status, due to the transparency of service.
Transport Use Case
Let's take a look at a real-life transport example and why an IoT solution is needed.
Background
An industrial company produces industrial gearboxes for wind turbines, 50 km outside of Nuremberg, Germany. They regularly export to their end customers in China, a wind turbine producer, 50km outside the Shanghai region. The DAP (delivered at place) shipment contains logistics organized from the shipper to the factory, import declaration done by the receiver, and 19 tons of gearboxes based on a customer order.
Perspective
In the worldwide shipping industry, Chinese business is critical and they are facing fierce competition. The production capacity utilization in Nuremberg is also depending on this business. The business is profitable as long as the delivery is running smoothly, without major disturbances.
They have negotiated a fixed price for the standard shipment with their shipping agent, which is included in their component price calculation. A fixed, lead-time of 43 days is set in the industrial producers ERP/Supply Chain module as a base for their production planning.
The communication between the industrial company and the Transport Management System are handled via email and phone – there is no full transparency.
The industrial company is using a real-time tracking and condition monitoring service. This is creating extra cost but helps to improve transparency. The system is running on the tracking supplier platform with no connection to the ERP.
Transport set-up
The regular shipping route is by sea/freight with a standard lead-time of 43 days, door-to-door. The sea-port for this set-up is Rotterdam, using a fixed shipping line and a fixed train connection in the Hinterland from Nuremberg. Alternatively, they are booking a truck connection to the port, using alternative sea-freight carriers, change to the port of Hamburg or using air-freight. All alternatives are causing additional cost.
Challenges
The challenges that exist for the shipment from point A to B include:
Regular requests to change the shipment from sea to air or vice versa
Regular delays in transportation
Products arrive partly damaged (rust or pallets broken)
Additional costs and administration to manage the exceptions
Current issues the company is facing:
With the current methods of individualizing IoT projects, rather than creating a holistic IoT solution, these are the problems shipment visibility faces:
Customers in China changing their orders with very short-notice – this was leading to costly air-freight shipments which could not be recovered.
The transport lead-times were very unreliable for various reasons up to 60 days. As a result, the customers are complaining and asking for compensation.
Customers complained that products arrived damaged (rust, pallets broken) and could not be used. Again, customers are asking for compensation and air-freight shipments.
The administration effort to the industrial company is high. They are in regular contact with the transport agent and ask for updates of all shipments. The information about delays is often too late and corrective actions from the transport agent are necessary.
The transport agent is asking for cost compensation for additional transport matters, e.g. using a truck instead train to the sea-port. Root causes for problems are often difficult to investigate.
The tracking system is providing additional transparency – but for a sincere cost and effort due to the device management and separate UI.
Conclusion: The core interest of the industrial company is to serve their customer's needs smoothly, for stable and competitive cost. The current setup is causing too much effort and cost, as well as putting the business at risk.
The Shipment Visibility IoT Solution
Axonize's IoT platform is the IoT solution that both infrastructure and logistic providers can use to manage their digitally optimized processes from Point A to Point B. It's the low-cost interface between the tracking provider and the logistics systems.
Using only one platform for the entire journey, Axonize combines all tracking and sensor solutions, logistics and operational systems and information platforms into one centralized location for all parties. Axonize works with any sensor or device, gathers and analyzes information from the entire journey and provides you with all the information your customers need. We can help you keep your team and customers informed every step of the way.